The Big Show
O'Neil De Noux
---
An excerpt from
The Big Show
From THE BIG SHOW . . .

He moved the shotgun up to his shoulder.
For an instant LaStanza saw Lizette's face.
So this is how it ends, on a muddy road with sweat in my eyes and she's on the other side of the world.
A gendarme would go to her hotel to tell her. Mason would drag his feet up the steps to knock on his parents' door to tell his mother that her last son was gone.
For an instant LaStanza saw his brother's face smiling at him.
No! He blinked it away and fixed the sights of his magnum square on the chest of the big man and cocked the hammer. It sounded loud.
He could feel man's eyes staring at him as he squeezed the trigger slowly, raising the iridescent red sights to the man's head. His hand wavered and he locked his right elbow, his left hand steadying his grip and reminded himself he'd never missed before . . .

---
O'Neil De Noux Bio
Born in New Orleans, O'Neil De Noux is a former homicide detective and organized crime investigator. He has worked as a U.S. Army combat photographer, a criminal intelligence analyst, a private investigator, a journalist, a magazine editor, a bra fitter, and a computer graphics designer. As a police officer, he received seven commendations, primarily for solving difficult murder cases. In 1982, he was named "Homicide Detective of the Year." In 1989, he was proclaimed an "Expert Witness" on the homicide crime scene by the Criminal District Court of New Orleans.

Mr. De Noux teaches mystery writing at the University of New Orleans and is the founding editor of two fiction magazines, Mystery Street and New Orleans Stories. Besides his four previous LaStanza novels (Grim Reaper, The Big Kiss, Blue Orleans and Crescent City Kills), Mr. De Noux is the author of the true-crime thriller, Specific Intent (A main selection of the Doubleday Book Club). His short stories have appeared in magazines and anthologies in the U.S., Canada, England, Scotland, Germany, Italy, Denmark and Sweden.

Mr. De Noux lives with his wife, Debra Gray De Noux, in suburban New Orleans.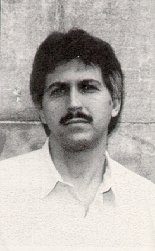 O'Neil De Noux
Novels:
Grim Reaper
The Big Kiss
Blue Orleans
Crescent City Kills
The Big Show

True Crime:
Specific Intent

---
The Big Show
is available from
From Amazon.Com
Barnes and Noble
Coyote Book Shop
---
O'Neil De Noux has short stories available NOW
:

Strange Things
- a short story in HOT BLOOD X
A woman takes a naked stroll through a dark Louisiana night and discovers the swamp is no place to be naked.

Except for the Ghosts
- a short story in CABERET MAGAZINE, Vol. 5, Issue 5
Norman Moore waits at an out-door cafe for the woman he's going to kill..

The Murders along the Rue Frenchmen
- a short story in LOUISIANA LITERATURE, Vol. 15, No. 1.
Set in 1890, NOPD Det. Jacques Dugas tries to solve a series of baffling murders along Frenchmen Street.

The Whore
- a short story in BLUE MURDER MAGAZINE
Why are LaStanza and Snowood in a motel room with a naked woman and a dead man? It's a crime scene!

The Gold Bug of Jean Lafitte
- a short story in THE MAMMOTH BOOK OF HISTORICAL EROTICA Anthology.
Det. Dugas must solve the riddle of Jean Lafitte's Gold Bug, while caught-up in a most bizarre murder case. In New Orleans, sex and murder go together like beans and rice.

Whispers in Walled Tombs
- a short story in LOVE IN VEIN II Anthology
HarperPrism (ISBN: 0-06-105657X)
What better cover for vampires - cops in the Crescent City?

Erotophobia
- a short story in THE MAMMOTH BOOK OF NEW EROTICA Anthology
Carroll & Graf Publishers (ISBN: 0-7867-0535-3)
Private Detective Lucien Caye is embroiled in an erotic murder during the steamy, New Orleans summer of 1948.
Forthcoming later in 1998

Murder Most Sweet
- a short story in ELLERY QUEEN'S MYSTERY MAGAZINE
Detective John Raven Beau goes home for Thanksgiving, only to discover how nasty murder can be, even in the small Cajun village of Cannes Brulee.

Market Street
- a short story in CRIMEWAVE MAGAZINE (UK).
NOPD Homicide detective John Raven Beau tracks down a maniac on a bloddy, cockroach-infested, New Orleans night

Murder at Suicide Oak
- a short story in CRIME TIME ANTHOLOGY (UK).
LaStanza and partner Jodie Kintyre unravel a perplexing murder-suicide case that hits very close to home.

Hollow Point
- a novella from Gryphon Books, New York.
A LaStanza police story set along the dark, seedy streets of New Orleans' Ninth Ward.

Hard Rain
- a short story in PONTALBA PRESS PRESENTS SHORT STORIES (ISBN: 0-9653145-3-7).
PI Lucien Caye is back, following the trail of a missing maid, a trail which leads to murder.

The Purloined Woman
- a short story, also in PONTALBA PRESS PRESENTS SHORT STORIES.
Det. Jacques Dugas is back, investigating the mysterious disappearance of an alluring, young woman.

A Walk in the Rain on the Wild Side
- a short story in NOIROTICA3 Anthology.
A pretty woman, a shrinking dress, two curious men, a rainstorm & a wet walk along the wilder side of life.

For more information write to:
O'Neil De Noux
P.O. Box 73043
Metairie, LA 70033
or
E-Mail O'Neil

---
Signings
| | | |
| --- | --- | --- |
| Date | Time | Location |
| Thursday, November 19 | 6 PM | deVille Books, New Orleans, LA |
| Saturday, December 5 | 2 to 4 PM | LOUISIANA LITERARY MARKETPLACE @ the East Baton Rouge Parish Library |
---